Fabrication & Manufacturing Industry
---
After a rigorous inspection of facilities, qualified procedures and personnel, a shop may be awarded an ASME (American Society of Mechanical Engineers) U Stamp, which is required to designate a pressure vessel as defined and regulated by ASME codes. After the U Stamp is secured from ASME the National Board offers the Certificate of Authorization and R symbol stamp for repair and/or alteration of boilers, pressure vessels, and other pressure-retaining items. R Stamp repairs are done under ASME code according to geographical locations, insurance requirements, and State Law. Both of these designations are much sought after and include a full audit of procedures and facilities every three years.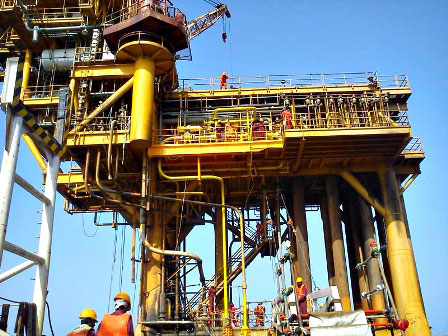 As is evidenced by the strict requirements ASME imposes on shops seeking the U and R Stamp designations, these are the fab shops that produce pressure vessels such as those you might see well sites. Equipment such as separators and compressor skids, along with all the pressure rated equipment found in factories, refineries, gas fractionators, compressor facilities, mines and interstate pipelines – in other words everywhere.
In preparation for a project to enter the manufacturing phase it is necessary that Engineering prepare new equipment designs to assure adequate sizing for volumes and pressures. Premier NDT offers these professional services with a staff of Professional Engineers licensed in numerous states.
Commonly referred to as welding inspectors, an AWS Certified Welding Inspector is a key link in the manufacturing process. In addition to observing and approving welding procedures for a method, they also qualify welders in those procedures before fabrication can begin.
After weld-up is complete on equipment in this category most code designations require X-Ray Inspection of at least a percentage if not all of the welds on the project. This can run into hundreds of welds on a large compressor skid. A few of Premier's X-Ray teams are dedicated to the larger code shops, reporting to that shop daily, all year long.
Inspection of equipment in this category makes up a large percentage of the work we do. Teams typically consist of an API Inspector – 510 for pressure vessels and 570 for pressure piping – along with a Level-II NDE Technician. These teams inspect both new and repaired equipment prior to them being released for service.
In the event of a pressure vessel repair it is generally required that Premier's staff of API Inspectors and Professional Engineers perform fitness for service evaluations, remaining life assessments, fatigue analysis and/or vessel re-rating as a result of repairs or alterations.