Radiography Testing
---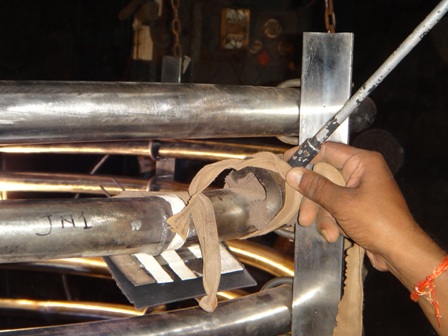 Radiographic Examination is a form of non-destructive testing (NDT) that involves the use of penetrating X (generated x-ray) or Gamma (Iridium 192) radiation to examine parts and products (welds) for flaws that could be detrimental to their intended use. At Kaizen NDT & Engineering Services, we specialize in using the latest technologies and techniques for radiographic testing projects.
Kaizen NDT & Engineering Services provides radiography services in the field right at the customer's location.

We have Modern testing equipments perfectly equipped for high sensitivity applications.
Radiography inspection personnel are qualified and certified to BARC RT Level I, II certified, RT Level I, II certified as per ASNT recommended practice SNT-TC-1A and or IS:13805 certified by Indian Society for Non-destructive testing (ISNT) and are approved by leading third party inspection authorities.
KNES facilitates Experienced in house ASNT NDT Level III consultants and experts for providing techniques establishment, procedure preparation, approval and consultancy services.
ASNT NDT Level III trainers are provided for conducting in house or external NDT Level 1, 2 training and certification courses on Radiography testing and other NDT inspection methods.
Our highly experienced radiographers are extremely capable in employing many specialty techniques involving geometrically-challenging parts and pieces often-times where other companies cannot offer working solutions.